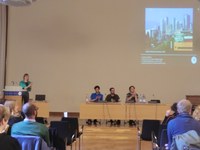 On January 29th 2016, the Georg-Simmel Center for Metropolitan Studies hosted the fifth student conference. 23 graduates from differents fields such as geographie, ehtnology, spacial planning, urban studies, history, social sciences and area studies  presented their thesis. Over 70 young researchers attended the conference to discuss current questions of metropolitan research.
The following six sessions provided a framework for discussion:
(1) Spatial Production and Post-colonialism
 (2) Environmental Resources and Ecology
 (3) Housing and Planning
 (4) Living Environments
 (5) City perceptions, image, representation and presentation
 (6) Infrastructure and mobility.
You can download the detailed program here.
As a concluding highlight, the GSZ-Award was given to Florian Buchmayr (department of sociology) for the best Bachelor thesis and to Janine Hauer (Europeen Ethnology) for the best Master thesis.
Prof. Dr. Niewöhner, Janine Hauer (best Master thesis)
Foto: Evelyn Galván Espinoza
The next conference will take place in January 2017.
Call for applications will start in october 2017.
If you have any questions, please contact: Student.Conference.GSZ@hu-berlin.de