Sustainability Office
We are a growing group of students at Humboldt University who believe that only sustainable development can safeguard our future – and that this has to start with us. Our goal is therefore to develop concrete concepts that will promote institutionalised commitments to sustainability at our university.
Sustainability Office
A student initiative at HU Berlin
Network. Initiate. Transform.
For a sustainable university.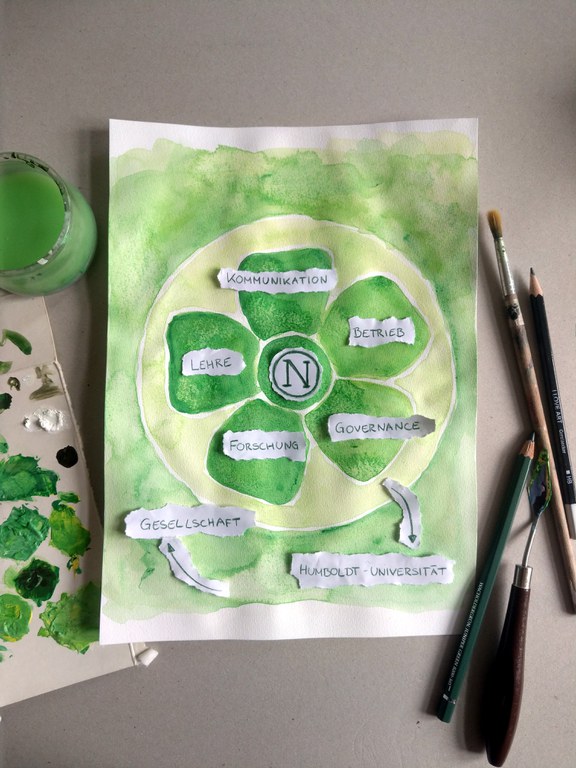 We coordinate projects for resource conservation within the university itself, new seminars and lectures in the area of sustainable development, research for sustainability (primarily course papers, dissertations and theses) and collaboration with other sustainability initiatives at the university and with interested students
We've recently published a new report outlining our concept, a collection of our projects and a report of the working group "Nachhaltige Universität" outlining the status quo of sustainability issues on our university (only available in German so far):
Get involved! If you're not sure how, we're here to help.
Just come to one of our open weekly meetings that take place every Monday in Room 4076 in IRI THESys (4th floor, Friedrichstraße 191, 10117 Berlin) at 6pm or send us an e-mail.
Attention: Due to the current Developments around the Corona Virus we only meet online. Please contact us in order to organize a separate call or your participation in one of our weekly meetings.
**We also have a parallel english-language group called "Sustainability Office HU - International"** 
For further questions, wishes or ideas, send an e-mail to
nachhaltigkeitsbuero[at]hu-berlin.de